Posted by
Anjali Kaur
on
Jun 23, 2022
Strategic Investment Planning
As a mutual fund dealing representative, you have a responsibility to make suitable investment recommendations to your clients. The Strategic Investment Planning (SIP) process helps you to follow a clear series of steps to make good recommendations.
Why Follow the SIP Process?
The SIP process provides a series of steps that you, as a dealing representative, can follow to help your clients meet their objectives. Following the process makes it more likely that your clients will achieve their objectives, receive their desired levels of return on investment, and choose suitable investments for their needs and goals.
The Strategic Investment Planning Process
The Strategic Investment Planning (SIP) process consists of six steps. The six steps enable you as a dealing representative to enter into client engagements, understand your clients' needs and objectives, and develop and implement financial plans that aim to meet your clients' goals.
Your clients determine the level of service they are expecting from you. Some clients may retain you for the entire planning process; others may retain you only for a part of the process. For instance, a client may retain you for steps 1 to 4, in order for you to complete a financial plan.
It is essential that you keep detailed documentation throughout the financial planning process. Mutual fund dealers usually have internal processes and forms for each step in the SIP process. You should become familiar with your dealer's processes and forms.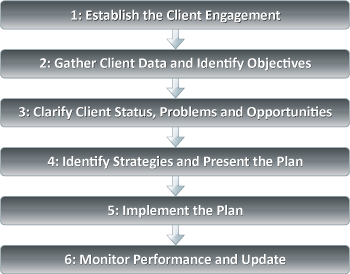 Step 1: Establish the Client Engagement
In this step, a potential client chooses you as his or her dealing representative and agrees to pay you on a fee-for-service basis. In addition to completing your dealer's New Account Application Form, you also formalize your relationship with the client using a Letter of Engagement, which specifies:
Your duties and responsibilities
Your client's duties and responsibilities
The level of service you are offering
The agreed-upon fees that your client will pay for your services
Once the Letter of Engagement is signed by both you and your client, it becomes a valid legal contract.
Step 2: Gather Client Data and Identify Objectives
Once you are confirmed as the dealing representative for your client, you gather as much data as possible about the client in order to best meet his or her needs.
Based on the information you have gathered, you and your client should work together to define, quantify and prioritize his or her personal and financial goals.
This process is called Know Your Client (KYC).
Step 3: Clarify Client Status, Problems, and Opportunities
In this step, you conduct a detailed analysis of the client information you have collected, in order to:
Clarify the client's status.
Identify any constraints that might affect your client's ability to meet his or her goals.
With the KYC information, you are in a position to judge whether the client's resources are adequate to meet his or her financial objectives. If the client's resources are not sufficient, then you must work with him or her to refine the established priorities.
Step 4: Identify Strategies and Present the Plan
Based on the client's information, goals, and any constraints, you develop a financial plan to meet the client's objectives. The financial plan is based on basic and realistic assumptions about financial parameters such as:
inflation                           
income tax rates
interest rates
anticipated rates of return
Any statements or illustrations about the future performance of a given investment must use reasonable estimates, and in no way suggest that the projected results are guaranteed.
A common claim in complaints from clients relates to misrepresentations in financial plans and illustrations. Therefore it is very important to include a qualifying statement to the effect that the financial plan is based on assumptions made by you, results contained in illustrations are not guaranteed, and actual performance and results may be different from the figures in the illustrations.
For instance, if you have based your financial plan on an assumed yield of 3% per annum (p.a.) compounded quarterly, but the portfolio managed to earn only 2.5% p.a. compounded quarterly, the actual value of the portfolio at the end of the time horizon will be less than the projected value.
Step 5: Implement the Plan
The best investment plan is worthless unless your client makes a commitment to implement your recommendations. Depending on your expected level of service, you now need to either implement the plan or guide your client if he or she wishes to implement the plan directly.
Step 6: Monitor Performance and Update
Once you or your client has implemented the plan, it is essential to monitor the investments periodically to compare their actual performance with the projected performance and to monitor variations in inflation and interest rates compared with the assumptions made during planning.
You should also review any changes in the client's personal circumstances, to determine whether any changes are warranted to the client's portfolio. You are required to suggest changes to the asset allocation mix, or to switch securities, in order to reflect changes to the client's personal circumstances or objectives, as well as changes to general and industry-specific economic conditions.
The Letter of Engagement should clearly establish the level of monitoring the client expects you to perform. It should specify what you will do when you will do it, and why it is being done.
Thank You!
You can read more posts related to IFIC Exams:
Disclosure: Some of the links on the website are added, meaning at no additional cost to you, I will earn a commission if you click through or make a purchase. Please support me so that I can continue writing great content for you.